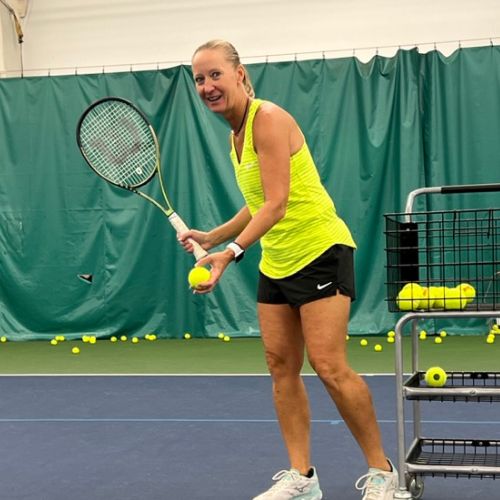 Darcy Rabenda
Darcy has a long history of tennis in her resume. She was a top junior player in the Eastern Tennis Association in New York. Darcy went on to spend her Senior year in High School at the Palmer Academy in Wesley Chapel, Florida. Upon graduating, Darcy accepted a full scholarship to Temple University from 1993-1997. While at Temple they won two Atlantic 10 Championships in 1994 and 1995. Her Junior year at Temple she was named team Captain and played number one singles and doubles. Darcy is still playing competitively today. She holds 3 consecutive National Doubles Titles on Grass with the most recent one coming in July of 2023.
Since Darcy was in high school, she has been teaching and coaching tennis. She served as a teaching pro most notably at The Powelton Club in Newburgh, NY and Magarity Tennis Club in Flourtown, PA. Darcy also has a long history of coaching Collegiate and High School teams. Darcy served as the Graduate Assistant Coach at Temple University, the Head Coach at Chestnut Hill College, JV Girls Tennis Coach at Upper Dublin High School, the Boys and Girls Varsity Coach at Pennridge High School for 10 years, staff professional at Cedarbrook Country Club and finally was selected to start the Men's and Women's Tennis program at Delaware Valley University.
Darcy also comes to us with a strong background in Health and Physical Education and Human Movement. She recently retired from spending 20 years as a Health and Physical Education Teacher at Pennridge High School. While at Pennridge she spent 9 years at the K-12 District Coordinator for Health and Physical Education. She holds degrees from Temple University in Kinesiology and Health and Physical Education Teacher Education. She also holds a master's degree from Wilkes University in Curriculum and Instruction.
In Darcy's spare time, she enjoys spending time with her husband, family, and fur babies. She loves playing whatever sport she can get her hands on, traveling, and enjoying great food.